Every successful restaurant needs a top-notch front of house restaurant staff to ensure that everything is running smoothly and guests are leaving happy. Your front of house (FOH) team should be composed of workers with a variety of skills and talents, so finding the best person for each of these front of house positions is absolutely crucial to your success. 
In addition to technical skills like being able to work the restaurant POS, every front of house employee should be friendly, outgoing, customer service-oriented and able to handle situations on the fly. However, each role has specific responsibilities, so let's delve deeper into these front of house positions.
In this article we'll cover:
Restaurant Employee Handbook Template
Standardize your restaurant's policies, guidelines and processes with your custom restaurant employee handbook.
Standard front-of-house positions in a restaurant
General manager 
It is likely that the owner will not be available to handle the restaurant's day-to-day operations, so a general manager is hired to be their voice and act as a liaison between them and the rest of the staff. 
The daily tasks of the general manager include:
Delegating roles and tasks among staff
Creating schedules for staff members
Hiring and training staff
Establishing customer service protocols
Making administrative decisions
Setting up business technology
Creating a good restaurant flow
Overseeing front of house guest services
Ensuring exceptional guest experiences
Reporting progress and issues back to the restaurant owner
Qualifications: Most restaurateurs will want to hire GMs with at least a Bachelor's Degree in hospitality, business or management who also have 5-10 years of experience in the industry. GMs should have expert-level knowledge of driving sales and meeting targets, as well as top-notch customer service and interpersonal skills.
Shift supervisor
Because many restaurants are open long hours, it's usually impossible for the general manager to be there at all times. This is where a shift manager comes in to take on some of the managerial responsibilities. Their tasks usually include:
Supervising front of house employees and operations 
Ensuring that restaurant staff complete the required tasks
Mediating staff disputes and conflicts affecting service
Handling guest complaints
Training front of house staff and providing feedback
Reporting back to the general manager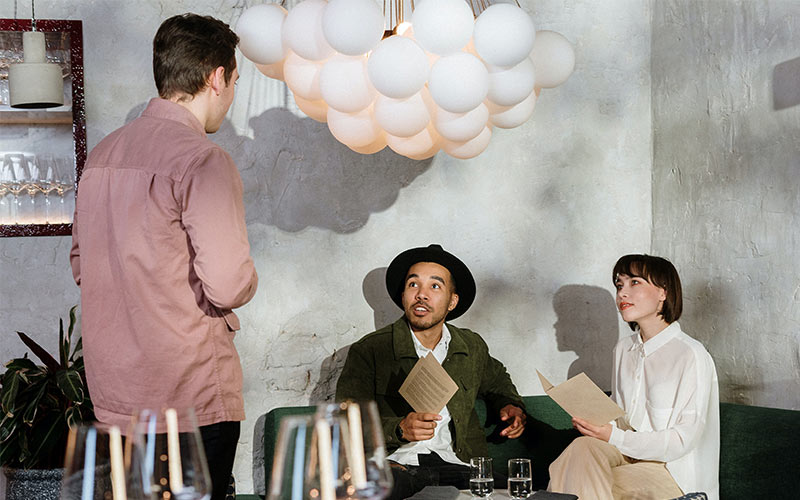 Qualifications: A shift supervisor should have at least a high school degree or equivalent, as well as industry and leadership experience. Like the general manager, their interpersonal and customer service skills need to be top-notch and they should be goal-driven. They'll probably need to be comfortable pulling double duty and be able to help out the front of house staff during peak hours.
Server
Arguably the most visible FOH staff members in a restaurant, servers are responsible for ensuring guests have a great restaurant experience. Most restaurants assign each server a station to prevent them from getting overwhelmed and ensure things run smoothly. Server tasks include:
Taking guests' food and drink orders
Ensuring that water glasses are always filled
Providing guests with insights on the menu or daily specials
Setting up and closing down the dining room 
Acting as liaison between guests and the kitchen
Billing guests and taking restaurant payments
Qualifications: Because of their extensive face time with the guests, servers need to be friendly, accommodating and have great customer service skills. Since most full-service restaurants prefer to hire servers with industry experience, many servers start out as hosts or food runners, or have prior experience in retail or quick service.
Bartender
Bartenders are responsible for bar upkeep, managing and restocking inventory, making and serving drinks, checking IDs to confirm guests are of legal drinking age, and ensuring safe alcohol service. A bartender's tasks include:
Setting up the bar at the beginning of their shift
Taking inventory and restocking wine, beer and spirits
Serving guests seated at the bar
Making drinks for servers to bring to tables
Ensuring the bar is kept clean and tidy 
Billing and taking payments at the bar
Shutting down the bar at the end of the night
Qualifications: Bartenders should have good knowledge of wine, beer and cocktails and they need to have the same customer-facing skills that servers have. Bartenders need to know how to serve alcohol responsibly, be aware of how much alcohol guests are consuming and be able to recognize the signs of intoxication. They must also have the communication and problem-solving skills necessary to keep guests safe.
Host
Often the first point of contact for guests, the host maintains an important role in establishing guests' needs and expectations and conveying that information to their server. The host is also responsible for:
Taking guest reservations
Organizing seating charts
Accommodating guests as they wait to be seated
Seating guests as tables become available
Making sure that servers are aware of any food allergies or restrictions
Letting servers know if their guests are celebrating a special occasion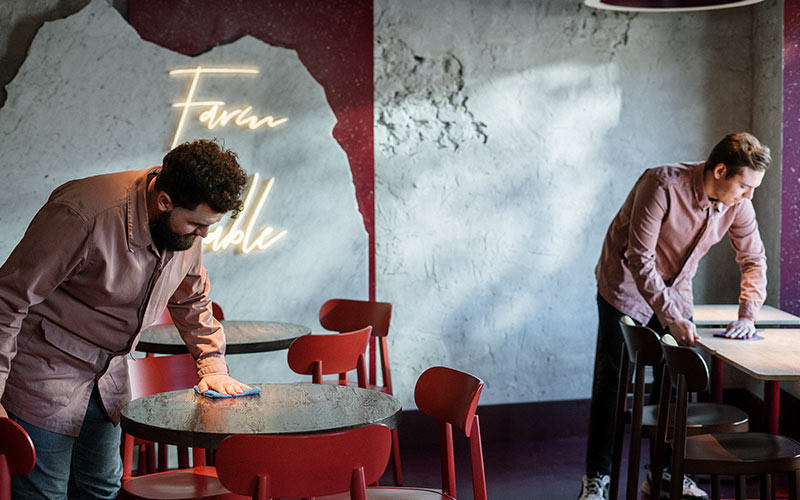 Qualifications: Since they are the first point of contact for guests, a host should be high energy, have great people and communication skills, be organized and have good attention to detail. This is one of the more entry-level front of house positions, so it's a great option for anyone trying to break into the industry.
Busser / Food runner
Bussers and food runners perform simple tasks like clearing tables and running food so servers can spend more time focusing on guests. Their tasks may include:
Running food to tables
Refilling water glasses
Clearing glassware and tableware throughout the meal
Wiping down and resetting tables between seatings
Ensuring server stations are clean, organized and well-stocked
Qualifications: Busser or food runner is an entry-level front of house position. They need to have good attention to detail and be able to move quickly to clear the tables for servers and guests. They should also be good communicators and multitaskers.
Barback
Barbacks support bartenders and waiters during their shift, and may also assist with bar opening and closing procedures. Barback responsibilities include:
Collecting glassware and running it through the dishwasher 
Clearing and wiping down the bar
Restocking beer, wine and spirits during peak service hours
Changing beer kegs 
Refilling ice bins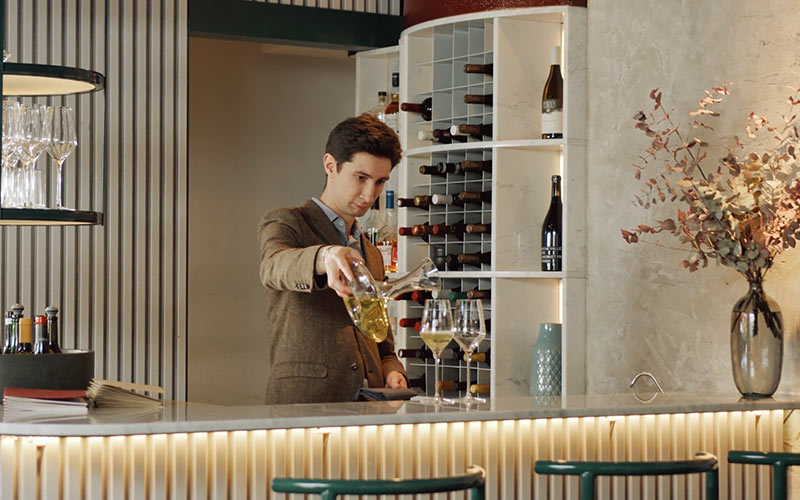 Qualifications: Barback is a junior role and a great way for aspiring bartenders to get their foot in the door. Barbacks need to be able to work well in a fast-paced environment, should be motivated and proactive, and they need to be physically able to lift heavy items like beer cases and kegs.
How to write a killer restaurant front of house job description 
Each FOH position has its own set of duties and required skills, but front of house employees tend to share similar profiles and traits. Not every server and bartender is going to be fun and outgoing, but they need to be friendly and efficient. Every employee who's in contact with your guests needs to possess certain skills and qualities. 
Here's how to craft a compelling front of house job description that will attract the right people and clearly communicate your needs and expectations. 
Step 1: Describe your ideal front of house employee
Your job description is where you want to talk about general skills and qualities this candidate should possess. Think of it as your wish list. Use adjectives that describe your ideal front of house employee and what it takes to succeed in the role. 
Here's an example:
We are looking for friendly, service-oriented FOH staff who are quick on their feet! To be successful in the role, you'll need good customer service skills, a positive attitude, good organization and multitasking skills. 
Our ideal candidate is comfortable meeting and interacting with new people, is sympathetic and professional when handling complaints, and is able to remain calm under pressure. Training will be provided to get you up to speed on our menu, steps of service and restaurant POS.
Step 2: Fill out the job responsibilities
After the job description, list the specific job responsibilities and tasks the front of house team member will be expected to do in a bulleted list. Of course, when the restaurant is slammed, everyone chips in to get the job done, but these are the tasks for which this specific front of house employee will have ownership. Keep it simple, but be specific. 
You may want to include any training or resources they'll be expected to use on a daily basis, and put the most important duties and responsibilities at the top of the list. We've listed out the typical tasks for each FOH position in the section above, so you can simply copy and paste, but be sure to customize it to your specific needs and expectations. 
Step 3: Outline the job requirements
List the job requirements for the front of house position in a separate bulleted list. Job requirements are what candidates need to have to be considered for the role, and may include (but are not limited to):
schedule availability 
education or qualifications 
previous experience 
key skills and attributes
physical abilities essential to the job
List the most important ones—the must-haves—at the top and the nice-to-haves near the bottom, or consider splitting these into two separate lists. Your list should be short, sweet and to the point, while also clearly stating the conditions for employment. Here's a good example of job requirements for a server in a fine dining restaurant:
Job Requirements:
Must be available for evenings, weekends and holidays
High school diploma or equivalent
Minimum two years experience in fine dining
Excellent communication and interpersonal skills
Willingness to perform additional duties as required
Bonus points if you have:
Food handler certificate
SmartServe certificate or equivalent
Basic beer and wine knowledge
How to set your FOH staff up for success
Give them easy-to-use restaurant technology
Old tech and awkward workflows slow your front of house employees down, especially your servers, bartenders and managers. It shouldn't take a rocket scientist to place an order—your restaurant POS should be easy to use, easy to navigate and so intuitive that your FOH staff need very little training to understand how it works. For Andrew Ketcham, Associate Director of Operations at Atomic Hospitality, Lightspeed's restaurant POS has been "a gift".
We added it when we started with one location and we've since added two more across our portfolio. If we expand again, we'll add it again [because] being able to have that user-friendly nature, it makes speed of training efficient and quick. It's priceless. — Andrew Ketcham, Associate Director of Operations at Atomic Hospitality
Speed makes a big difference, too. Nothing is more frustrating for a server or bartender who's been working their tail off to keep up than to be dragged down by a sluggish payment terminal. When you have to process six different credit cards to close out one table, slow-performing technology can quickly land you in the weeds. 
A unified POS and payments system automatically records transactions in your POS system, which speeds up the payment process, eliminates the need for manual entry and reduces the risk of human error. And at the end of a long day, the last thing your managers want to do is manually reconcile POS sales with credit card statements.
Give them continuous training and coaching
The importance of front of house employee training cannot be overstated, as your guests' impression of your restaurant is often defined by the service they receive. Your new hire training should be thoughtful and thorough, but even your veteran staff members need continuous training and coaching to be their best. 
Great topics for continuous training include:
Beer, wine and spirits 
Premium products
Upselling
Deep dive into your menu 
Advanced food safety 
What makes your restaurant unique
There are many ways to advance your front of house employees' knowledge and skills, including quick coaching sessions you can easily fit into the day. You could register your FOH staff for courses (in-person or online), host wine and beer training sessions on off days, or simply gather the FOH staff together pre-shift to go over new products, menu items or service issues you want them to concentrate on.
Give them reference materials
From your steps of service to your menu, there's a lot to learn and remember as a front of house restaurant employee, especially your servers who field the most questions from guests. Make life easy for them with a training manual or quick reference guide they can rely on when they don't have the answer.
Imagine what a game changer it would be, if rather than having to interrupt the chef in the heat of service—and they can get salty when you do that—your server could easily access a document that clearly lists the ingredients and any food allergies in each dish. 
Specialty front of house positions 
While the standard FOH positions can be found in most restaurants, there are other front of house restaurant positions that will only exist in certain kinds of establishments. Some involve aspects of fine dining, while others support an event or catering side of the business. 
Here are some examples of specialty front of house positions.
Sommelier
A sommelier is responsible primarily for the restaurant's wine list. They have earned their title from studying wine at an academic level so their taste is to be respected as they craft a wine list that perfectly complements the restaurant's dishes. They are also on hand to offer wine recommendations to guests.
Banquet and private events coordinator 
When special events are held at the restaurant—or VIP guests are in attendance—a banquet and private events coordinator is necessary to make sure everything runs seamlessly from start to finish. They are the guest's first point of contact and will take in all of the guest's special requests for their visit. The banquet and private events coordinator also coordinates with the general manager and head chef to ensure that the event is executed perfectly and feedback is well received.
Catering coordinator 
Some restaurants may choose to also operate off-site catering services, in which a catering coordinator is most definitely useful. They will connect with guests, plan and organize the event with them and then ultimately execute the event flawlessly. When the catering is complete, the coordinator will take in all feedback and implement it for future success. This role can also include marketing the restaurant's catering service, in particular, with the hopes of drumming up more business.
Final thoughts
If you're a restaurant owner or GM getting ready to ramp up your hiring, be sure to consider the unique attributes that each front of house restaurant position requires. 
Looking for a technology partner to help you and your staff streamline front of house staff training and operations? Learn how Lightspeed can help.