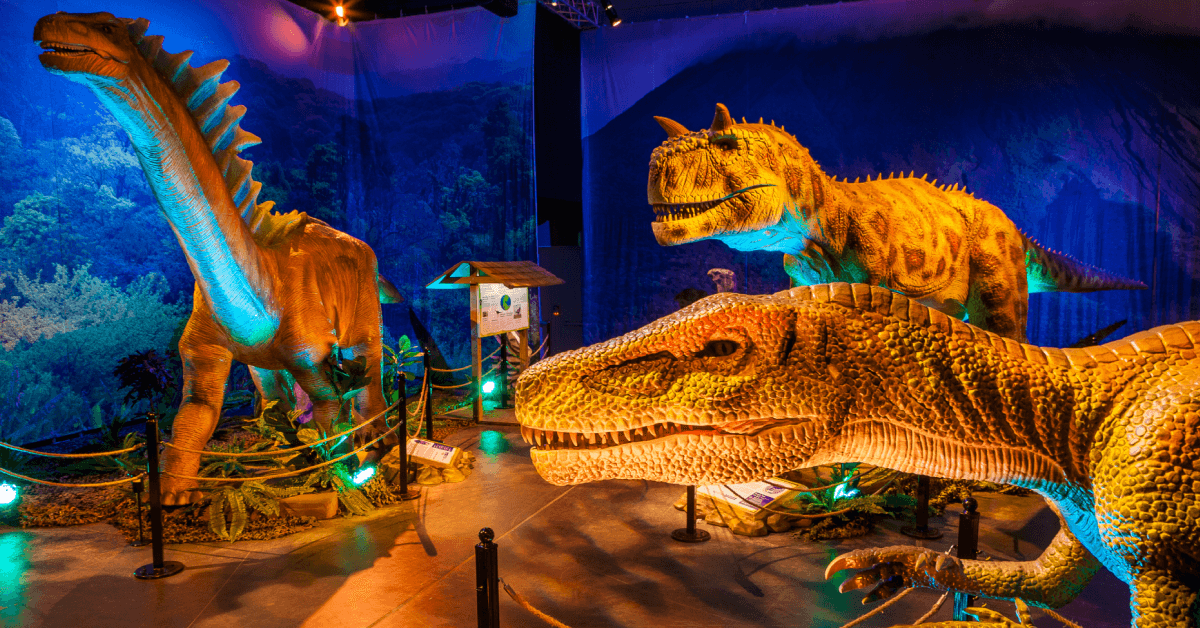 Downton Abbey, Titanic, Tutankhamun and Dinosaurs. What do all of these things have in common? Aside from being cultural phenomena that have captured the public's interest, these icons are just some of the exhibits produced and managed by Imagine Exhibitions. 
A company that launches and runs exciting experiences all over the world, Imagine Exhibitions operates in all types of venues—from museums and science centers to zoos and resorts. These exhibits also have a retail component to them, as they typically sell merchandise and souvenirs through gift shops. 
This is where Lightspeed Retail comes in.   
Lightspeed powers Imagine Exhibitions' retail business operations by providing a powerful point-of-sale (POS) and inventory management solution. The company uses Lightspeed to streamline their retail operations, track sales and gain actionable business insights. 
We caught up with Michael Slagle, Vice President of Retail Operations at Imagine Exhibitions, and asked him to share his team's experience with Lightspeed. In our conversation, we cover:
Imagine Exhibitions's process for setting up exhibits efficiently 
The value of integrating their POS and ERP systems
How they make smart decisions quickly with real time data
An efficient set up process that eliminates human error
Imagine Exhibitions is an incredibly dynamic business, and exhibits are constantly being set up and moved to different locations. As such, having a smooth and efficient set up process is key. 
To that end, Imagine Exhibitions designed a methodical set-up process to keep teams accountable and on track. 
"We utilize a checklist system which outlines the process of rolling out the POS and setting it up. We do it in a way where managers have to sign off on what's been done," explains Michael. 
"And when we train employees, we go through a series of training checklists with cashiers and sales associates on how to use the system. Then we train managers on how to do returns and exchanges."
Michael says that their checklists and processes outline what needs to be done in black and white, to "erase the gray areas as much as humanly possible."
How long does it take?
The duration of the set up process varies depending on the exhibit. Michael says the team usually spends a day training cashiers on product knowledge and systems. Of course, it helps that they have a solution (i.e., Lightspeed) that's powerful, yet easy to understand and use.
"Lightspeed, as a tool, is very comprehensive. I think it's one of the best ones with the touchscreens. It's very smooth, very easy. Cashiers generally pick it up in five minutes," remarks Michael. 
Ironing out the hardware side
All Imagine Exhibitions registers use iPads and Bluetooth scanners, and this setup allows teams to be more agile in-store. They can ring up sales with just a few taps and without needing to rely on clunky equipment. 
"We wanted something that was flexible and simple to set up on the cash desk," states Michael. "We have iPads with Bluetooth scanners, and that clean setup has been really good for us."
It's also easier to open up new registers when needed, giving in-store teams the ability to adapt to busy times seamlessly.
Integrating their POS and ERP
Imagine Exhibitions's portfolio is all about variety. In addition to having exhibits across multiple locations, each exhibition is distinct in its design, experience and product catalog. And in some cases, exhibits have different business models altogether.
As Michael puts it, "there is a really wide spectrum."  
One thing they've done to tie everything together is to have all of their financial accounts payable under one ERP, which is NetSuite. The company then integrated Lightspeed with NetSuite to ensure all the necessary retail data flows smoothly between the two systems.  
In doing so, Imagine Exhibitions created a cohesive infrastructure that facilitates better control and visibility across their exhibition portfolio.
"We're fairly well-integrated. We're live on our POS so we have information updating immediately. Our buyers know the sell through ratios and ship to sales numbers right away. We're able to react really, really nicely," remarks Michael. 
Real time data leads to fast and smart decision-making
Speaking of which, Michael says that having access to metrics like sales and sell-through in real time enables him and his teams to make data-driven decisions and take proactive actions.
"Lightspeed's reporting apparatus is really good already. I've been very impressed with that."
He continues, "If you don't have the ability to have a financial, back office system from which you can generate reports for analysis, you'd be okay with Lightspeed. You can really see sales numbers. You can export to Excel and drive those reports and filter any way you want to."
NetSuite + Lightspeed keeps the company's retail leaders in the loop
According to Michael, Lightspeed and NetSuite have helped Imagine Exhibitions' teams to automate their reporting, so they can focus more on high-level activities. These automations also ensure that key members of the team know how the business is performing. 
As Michael explains, "We're pulling all the number numbers into NetSuite and we have built our own reports that are automated to email out to the managers. And so everyone's pretty much aware of what trends are happening."
Empowering in-store teams to make decisions
In-store managers and their teams also reap tremendous value from Lightspeed's reporting capabilities. 
They "don't have to go to NetSuite; they can use it for top of the line analysis immediately if something comes up," says Michael. 
"If we notice a trend or something happens the day before and we're like, 'what happened on that?' We can find out quickly with the system."
He adds, "We can get that data fast without having to go into a broader, bigger analysis. That's one of the things that we all like about Lightspeed. That, in my opinion, is better than any of the other POS that we're using right now."
"I can go on my phone and get what I need to do. I can be in an airport or something and I can just get onto my phone and see things immediately. And that's pretty cool."
Bringing it all together
Imagine Exhibitions Retail Operations has successfully harnessed the power of Lightspeed to enhance their dynamic exhibit experiences and streamline their retail operations. From a meticulous and efficient setup process to real time data-driven decision-making, Lightspeed has proven to be a valuable tool for the company. 
Plus, the integration with NetSuite facilitates better control and visibility for the business. With access to instant sales metrics and seamless reporting, Imagine Exhibitions' retail operations teams are empowered to make smart decisions and provide exceptional customer experiences.
At Lightspeed, we're all about powering high-performing businesses like Imagine Exhibitions. Ready to learn more? Watch a demo and discover the tools and features that will drive your business forward.