One of the greatest joys about running a retail store or restaurant is that it gives you the opportunity to serve the community. Whether that means creating meaningful job opportunities at your store, or serving scrumptious food to the locals, your business can become a place for connection and local pride.
Even better, today's modern business landscape gives merchants the ability to implement initiatives that transcend their local communities. 
And with the International Day of Charity coming up, we figured now is a great time to highlight the ways that businesses can amplify their impact and embrace their social and charitable endeavors. 
We'll cover:
Prep for the future of commerce
Download our free playbook and learn how to sell on different channels, boost loyalty and increase foot traffic with technology.
What is the International Day of Charity?
The International Day of Charity is observed annually on September 5th. The United Nations established this day to raise awareness and encourage individuals, NGOs, and stakeholders around the world to help others through volunteer and philanthropic activities. 
The date (Sept 5) was chosen to commemorate the death anniversary of Mother Teresa of Calcutta, who received the Nobel Peace Prize in 1979 for her work to overcome poverty and distress, which also constitute a threat to peace. 
Why are charitable initiatives important?
Implementing charitable initiatives (not just on the International Day of Charity) can have a profound impact on your business, community, and the greater good. That may sound a bit trite, but it's true. 
Consider the following:
Charitable giving leads to better health
Charitable acts, whether big or small, encourage individuals and organizations to think beyond their own needs and consider the well-being of others. Plus, charitable organizations provide opportunities for individuals to volunteer, which then fosters a sense of community engagement, personal satisfaction and skill development.
These, in turn, can improve people's personal well-being, mental health and life satisfaction. 
Research shows that volunteering can lower stress and blood pressure; and a journal article published by the American Psychological Association found that "Those who volunteered for other-oriented reasons had a decreased mortality risk, even in adjusted models."
Charitable initiatives can have a positive impact on the economy
It's not just about personal wellbeing and community. Charities often stimulate local economies by providing jobs, purchasing local goods and supporting small enterprises.
In fact, some studies suggest that charitable donations can have a significant multiplier effect—potentially up to 10x. 
Essentially, services and activities funded by donations and carried out by charities lead to additional economic benefits downstream. Every dollar donated to charity can have an impact that is several times its initial value in the form of job creation, improved health outcomes, educational opportunities and more. 
Giving back is good for business
Engaging in charitable activities showcases your commitment to ethical practices and contributes to your corporate social responsibility (CSR) goals. This can lead to enhanced brand reputation, employee morale and customer loyalty.
Survey data cited by Statista shows that the majority of consumers (70%) either "totally agree" or "rather agree" that they're bound to be loyal to a company or product that demonstrates corporate social responsibility.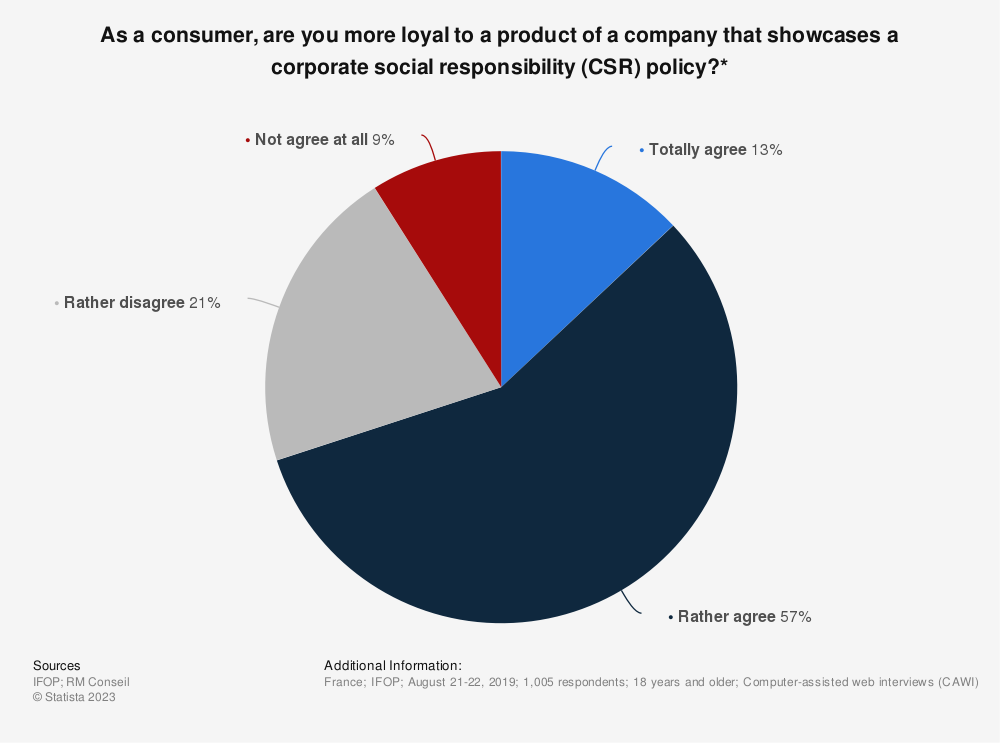 Ways that businesses can give back
Now that we've covered the fundamentals of the International Day of Charity and the benefits of charitable initiatives, let's look at some of the concrete ways you can give back. 
Donate a percentage of your profits to charity
Consider setting aside a percentage of your earnings for charitable endeavors. The amount of your donation and any participating products will depend on your business. For example, if a cause is ingrained in your business, then you can choose to donate a portion of overall profits to select organizations. 
Many veteran-owned businesses, for example, donate a percentage of their overall profits to groups that support vets. 
Another option is to set up charitable donations for certain products or product lines. Maybe you design an item with a specific cause in mind. In this instance, it makes sense to allocate the proceeds from that particular item directly to the cause, creating a clear and meaningful connection between the product and the mission it supports. This not only raises awareness for the cause but also allows customers to feel a direct impact with their purchase.
We can see this in action at Neal's Yard Remedies, which initiated a collaboration with the Bumblebee Conservation Trust in 2021.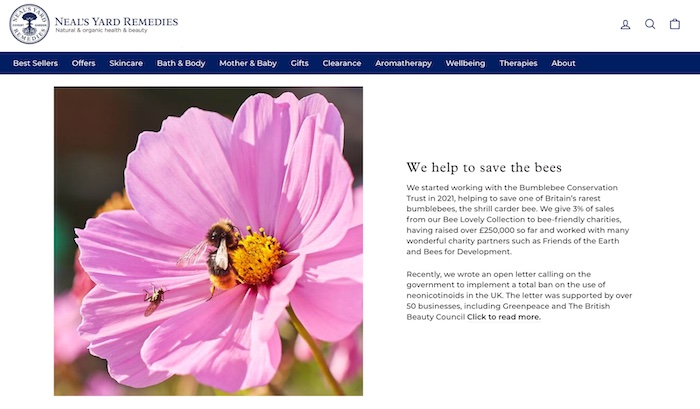 The goal is to protect one of Britain's most endangered bumblebees, the shrill carder bee. As part of their commitment, Neal's Yard donates 3% of the sales from their Bee Lovely Collection to charities that support bees. Their efforts have culminated in contributions exceeding £250,000 and partnerships with prominent organizations like Friends of the Earth and Bees for Development.
Donate your products
Another effective way to give back is to donate your products to those in need. This type of initiative is well-suited if you sell products that fulfill certain necessities or daily essentials (e.g., socks, food, etc.)
The fashion and accessories brand Bombas, for example, donates clothing items to charity every time customers make a purchase. For every item purchased through Bombas, the company adds to its total items donated tally then gets to work in making those products. 
We can see another great example of this in E2-Sport, which has a mechanical workshop for bike repairs. E2-Sport has a policy where any bikes that haven't been claimed for more than 90 days will be donated to charity.

Host events in your store or restaurant
Hosting events in your store or restaurant can foster community engagement, giving your customers a unique experience while also potentially driving increased foot traffic and sales. For best results, consider implementing a theme or partnering with a charitable organization when hosting your event. 
Take, for example, Melissa Joy Manning, owner of the namesake jewelry store. Melissa is a philanthropist and partner to Feeding America. 
According to the organization's website, "Melissa supports and advocates for hunger relief through Feeding America as well as Alameda County Community Food Bank and Food Bank For New York City, both network member food banks that serve the communities where her MJM jewelry boutiques are located."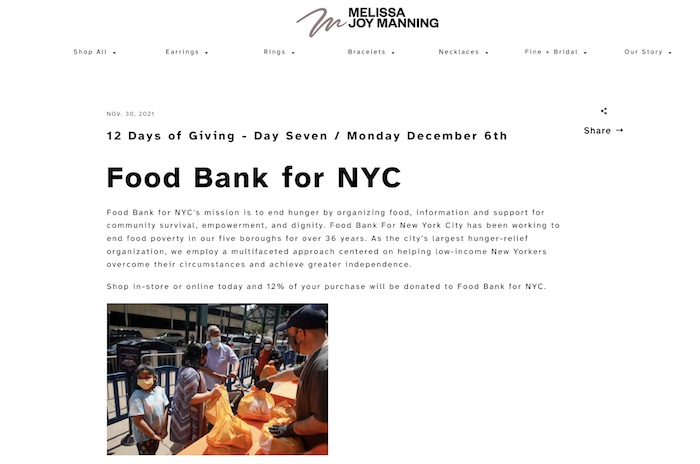 To support the cause, Melissa hosts in-store events for Feeding America's food member banks, along with an ecommerce charity drive to raise funds and awareness.
Beyond that, Melissa also an ecommerce charity drive for Feeding America, donating a portion of each purcahse to NYC food banks.
"I think there is just so much need, and I see it from my own back door in New York. It pains me to think that I am here doing what I love while knowing at the same time that a kid down the street may miss a meal that day. For me, it's a matter of sharing our blessings with those who are less fortunate," says Melissa in a quote provided to Feeding America. 
She continues, "I create jewelry to create change. All of our jewelry is made in-house by a team of artists who earn living wages and a competitive benefit and retirement package. We spend most of our lives at work and I believe that work should be a culture that embraces and supports every member. It is important to me that I not only take care of those within my organization but other members of my community, which is why I am proud to contribute to my local food banks and nationally through Feeding America."
Organize employee volunteer programs
Consider getting your staff into the spirit of charitable giving through employee volunteer programs. Aside from empowering them to serve the community, employee volunteer initiatives promote team building, boost morale, and cultivate stronger relationships—with each other and your company. 
This is something we regularly practice at Lightspeed. We offer volunteer days for employees, to give Lightspeeders the opportunity to actively engage in community projects and causes they're passionate about.
Final words
Embracing charitable initiatives isn't just a nice gesture but a transformative one. These endeavors enrich community ties, boost customers and most importantly, impact lives in tangible ways. 
The International Day of Charity serves as a good reminder of this potential, as it urges businesses everywhere to transcend beyond their commercial objectives and channel their resources and influence for the greater good. 
Hopefully, the ideas and examples above inspire you to take your charitable initiatives to the next level.