What makes for a successful restaurant? There are so many factors involved in keeping your restaurant running smoothly that it's easy to get bogged down in the minutiae of the day-to-day. With this article, we aim to help you find ways to simplify your daily tasks and streamline your overall restaurant operations. 
Maintaining efficiency in all your restaurant workflows is key, from front-of-house and back-of-house operations to the systems you use to run your business. The less efficient your restaurant operations, the harder it will be for you to stay profitable–and ultimately, keep your doors open. 
Optimizing restaurant operations
One report on Canadian restaurants found that 43% more restaurants have closed this past year, compared with the amount that have opened. That's a disheartening figure, and no restaurant owner wants to see the business they poured their capital, time, and passion into shut down before its time. 
There are plenty of things you can do to avoid this outcome. Here's what we'll cover in this article: 
The future of hospitality
Find out how you can prepare your restaurant for short and long-term success this year.
How to optimize front-of-house operations
The guest experience starts with front-of-house operations. Guests form their first impressions of your restaurant as soon as they walk in–and the little things make up the big picture. For instance, think about how much of a difference there will be in their initial impression if they walk in and there's a host ready to assist, versus walking in and seeing an empty host stand with no one to greet them. Let's delve into the tips for making your front-of-house processes more efficient. 
1. Use the right tech to manage reservations, waitlist and table turnover 
Table turnover rate is crucial to your restaurant's bottom line. It's fairly simple to track. The more tables you serve, the higher your profits will be. Of course that doesn't mean rushing guests–quality service comes first. It means knowing how to effectively manage reservations, walk-ins, and your waitlist.  
Gone are the days of using a manual computer system (or worse, a notebook) to manage reservations and tables. Using a POS system that integrates with reservation software can easily cut down time spent figuring out reservations and updating your waitlist, helping to eliminate no-shows, which can improve revenue. 
Your front-of-house staff will have a much easier time seating guests and managing reservations when the information is clear and easy to access through the right software. 
2. Reassess how you're taking orders and payments 
Are you using the right system to take orders and make payments? An embedded system will do wonders for your restaurant. That means your POS and payments work as one to ensure your staff can seamlessly take orders and close tables from the same platform.
An embedded system is more user-friendly than its non-embedded counterpart. Servers and bar staff can easily take orders and trust that when it comes time to checkout, the checks are automated–they don't have to input information manually to check out. 
A POS system should be able to keep up with the demands of your restaurant. Choose a system that allows you to configure your menu, workflows and floor plan so your staff can easily take orders and view tables. Automatic, real-time transaction data and order updates should be fully accessible within your POS. 
Your staff will also thank you if your POS and payments system includes online ordering capabilities. Streamlining all sources of revenue into one platform can do wonders for staff efficiency and happiness. A POS system that offers integration capabilities with delivery services will cut down time spent so staff can focus on providing customer service and other tasks. 
Let's talk about what this looks like in action. Lightspeed customer Kotsu Ramen & Gyoza uses Lightspeed Restaurant POS and Payments to keep staff and guests happy. The system matches their workflows and helps them simplify complex orders. 
"One of the things we do, for example, is design our POS set up on each individual item, ensuring we're asking the right questions of our guests to deliver that optimum guest experience," says chief concept officer Grant Macdonald. 
3. Ensure outstanding customer service 
The importance of properly training staff
When you go to a restaurant, what stands out most to you? Food is the obvious answer, of course. But customer service is a close second, or can even tie for first. Sometimes inadequate service can sour even the most delicious meal.
Strong customer service is key for a restaurant's success. Not only does outstanding customer service provide you with a competitive edge in your market, but it can fuel positive online reviews and word-of-mouth recommendations. 
Importantly, the experience should be consistent every time. Provide regular training to your entire team, especially as new hires come on board. There are plenty of customer service training programs online that staff have to complete in order to work on the floor, for example. Create an employee handbook with service guidelines that staff can follow. Include protocols for what to do in certain situations, such as when a customer has severe dietary restrictions. 
How to keep improving
Loyal customers can keep your business successful. Focusing on your existing customer base is just as important as bringing in new customers. And even though you're confident in your service strategy, you need to hear feedback from the most important player: the customer. 
Conduct surveys and send emails asking guests to provide feedback on their experience. You can even plan focus groups to gain insight into what you could be doing better. Keep track of online reviews to inform your customer service strategy. Make improvements as necessary. For example, if you notice a trend of customers waiting too long for their drinks to arrive, dig deeper. Assess bar staff workflows and make changes to address the issue. 
You can also take to social media to ask for feedback. Showing your customers you are open to feedback and you care about what they think can only contribute to positive impressions. 
The more you listen to your customers to help improve your customer service, the better your operations will run. 
Related: Check out our tips on how to provide an exceptional customer experience 
4. Clearly define employee roles
Have you ever applied for a job with a clear set of responsibilities, only to find that once you got the job, the role required you to do things outside your scope–tasks that were never mentioned in the job description? That's a common occurrence among restaurants. Sometimes servers are asked to act as hosts, bar staff have to work the floor, and more. A lack of clearly defined roles can lead to overall disorganization, burnout, resentment among staff and high employee turnover. 
So how can you avoid this? 
Of course it's normal from time to time for employees of different jobs to help each other out–that's not what we're referring to. The danger comes in when there's no proper hierarchy, from general managers to server assistants. Each person should have a clearly defined set of responsibilities so that they can be as efficient and effective as possible. 
Ultimately the goal for everyone is to provide customers with the best food and experience. You can only do that when servers can focus on serving, bar staff can focus on bar duties, and hosts can seat customers and oversee tables. It's key to running a well-functioning establishment. 
If employee roles change, communication is key–don't just expect people to do things outside their scope without any reason. Discuss expectations from the start with new hires, and ensure that there are employee guidebooks and operational manuals available that contain such information. 
5. Have a backup plan for all contingencies 
This includes being short staffed, for when people call in sick, for when it's a rainy day and the patio has to be closed, and any other unexpected (or unwanted) situation arises. Laying out guidelines for what you and your staff need to do in unfortunate circumstances is the best way to prevent the situation from spiraling. 
How to optimize back-of-house operations
Back-of-house operations include the kitchen, managerial office and communal break space. Front-of-house and back-of-house operations must work in harmony for a restaurant to be successful. In this section, we'll discuss how you can streamline your behind-the-scenes workflows. 
6.  Implement standardized recipes
Standardizing your recipes makes for a much more consistent experience for your guests and a more organized kitchen. Even if you have a rotating menu, try to ensure all your recipes are standardized. Standardization includes naming the recipe, detailing the ingredients and their measurements, and providing thorough instructions along with other information including serving size and plating instructions. 
Here's a guide on how to standardize your recipes. When kitchen staff can reference these recipes, workflow will improve. Plus, it's great for training purposes and can help inform the way you purchase and manage your inventory, potentially saving you money. 
7.  Keep an updated production schedule
One of the main duties of the kitchen manager is to create a production schedule. These schedules cover all the food preparation and planning for the week, including daily ingredient and recipe prep and assign different foodservice workers to complete these tasks. Production schedules are crucial for overviewing food preparation and assessing the resources that are required for dishes. 
8.  Utilize kitchen display systems
One way to manage orders effectively is by using a kitchen display system (KDS). It can save you time, money and space. A KDS allows kitchen staff to easily view orders, removing the need for kitchen printers, paper orders and tickets. An effective KDS reduces clutter and streamlines orders so the kitchen can manage them more efficiently. Servers can send orders via the POS right to the kitchen and focus on spending time with customers, while kitchen staff can complete orders in a timely and organized way.
Did you know? Lightspeed Restaurant's Kitchen Display System allows you to group items by order and digitize your production centers. 
9. Establish food safety and hygiene practices
Since you run a restaurant, you already abide by federal and state health and safety regulations. However, it never hurts to make sure you're up to date on all food safety and hygiene practices. For instance, the Federal Drug Administration (FDA) releases a new Food Code model every year outlining food safety standards and how to establish proper protocol at your establishment. Food safety involves properly storing, preparing and handling food to decrease the risk of foodborne illnesses. 
Train staff on hygiene practices and compliance
For US businesses, this FDA document is an excellent guide on how to follow and establish proper hygiene practices in your restaurant. Both BOH and FOH staff should be regularly trained on hygiene practices and how to comply to ensure you're up to standard and that your restaurant isn't presenting safety risks to customers. There are standardized online training programs you can implement to achieve this.
10. Conduct regular inventory audits
You probably already do this. But how efficient is your system for conducting inventory audits? An effective inventory audit can help you maximize inventory and cut costs. Usually these audits are conducted as part of your overall financial audit to ensure that physical inventory aligns with records. But overall, having a proper inventory management system can do wonders for your restaurant's bottom line, and if you're reading this article, it's probably time for you to reassess. The system can help you avoid food wastage, spoilage or theft. 
Did you know? Lightspeed's inventory management feature can help you track and automate your inventory to eliminate manual stock counting and minimize food wastage.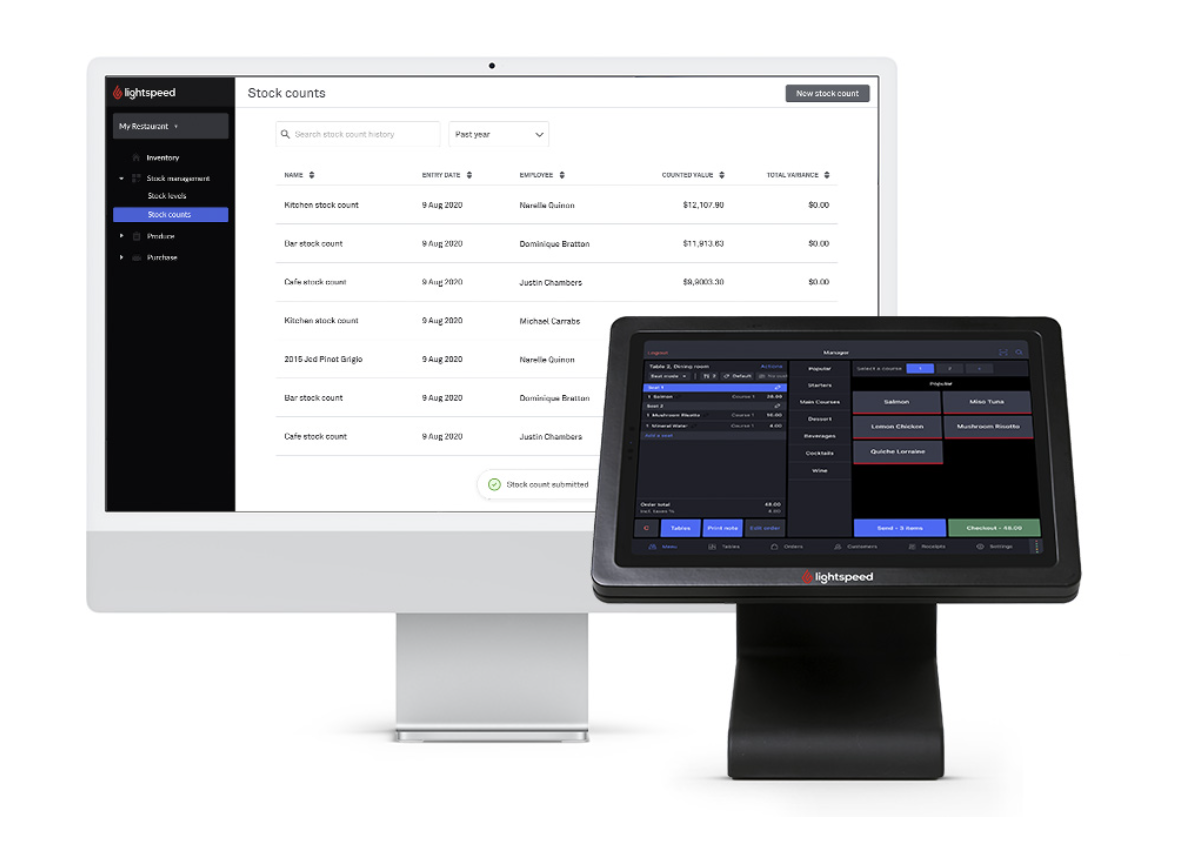 11. Analyze menu profitability
To cut costs and streamline your menu, an in-depth analysis is key. Here's what you should calculate as part of your analysis:
Portion costs of menu items
Food cost percentage
Menu item selling price
Markup margin
Projected food cost 
All of these will provide you with enough information to determine the profitability of your menu items. You can adjust your offerings accordingly as a result, potentially saving money and resources in the process.
How to leverage technology to streamline restaurant operations 
In this section, we'll highlight some of the systems you can implement in your restaurant to streamline your operations. 
12. Use a good point of sale system
Modern POS systems offer many benefits over legacy systems. 
A POS system should be able to keep up with the demands of your restaurant. Choose a system that allows you to configure your menu, workflows and floor plan so your staff can easily take orders and view tables. Automatic, real-time transaction data and order updates should be fully accessible within your POS. It's even better if servers can tap orders into the system right from the table using handheld devices rather than having to wait to input orders at a fixed POS. 
Innovative POS systems allow employees to easily split bills and input orders by seat. Integrations like inventory management, analytics tools and kitchen display systems can make it easier than ever to manage your restaurant, from one system. 
Lightspeed Restaurant delivers all these features, and more. Lightspeed merchant Recess, which serves up to 5000 customers on a Saturday, needed a POS that would help them keep up with consumer demand. 
"The majority of our staff already have iPhones, so to train them on iPads takes no time at all. And knowing that there's never a stop gap within the operation of the venue is a priceless return that they give to us. Lightspeed has done a great job of helping us overcome challenges by just creating a simplified product where we don't have things we don't need," says associate director of operations Andrew Ketcham. 
13. Simplify revenue streams with online ordering and delivery
Consumers nowadays have lots of choice when it comes to ordering food. There are so many delivery options at their fingertips, from UberEats to DoorDash. One way you can diversify your revenue streams while keeping your workflows simple is by using online ordering and delivery integrations. This involves syncing your menu with major delivery apps so you can easily expand your reach and increase revenue via new channels. 
For example, with Lightspeed Delivery, orders from UberEats, DoorDash and more are sent straight to your POS.These types of integrations allow you to easily manage orders and track deliveries. 
14. Utilize data analytics to make better business decisions
Data can be the driving force of profitability in your restaurant. A great POS and payments system will provide you with insights on menu performance, preferred payment methods, employee performance, popular items and much more. You can use these insights to fuel business decisions to make informed decisions. That includes doing things like prominently featuring popular menu items, implementing rewards programs and more. 
These insights will allow you to analyze operational performance and areas for improvement. For example, if there's one staple item on your menu that just hasn't been performing well, you can save money on inventory by cutting the item and replacing it with something else. 
How to create a strong team of employees
Your employees are the beating heart of your business. In this section, we'll discuss tips for improving staff training and communication.
15. Implement ongoing training and development programs
When you implement new technology, take the time to train staff thoroughly. The same goes for any new procedures or processes that you're putting in place, whether that's about customer service or their workflows. Your staff should be up-to-date on any new procedures. As we mentioned earlier, updating your operational manual will also help with training. 
It's also important to nurture your employees' skills. If they show interest in taking on more responsibilities and eventually moving to a new role, schedule them for a shadowing shift. You can even hold workshops with outside experts to teach employees new skills, such as new techniques in bartending. Talk to your employees about what they want out of their roles and what they'd like to achieve. Many people see the restaurant industry as a temporary place for themselves, but others are the opposite. 
16. Make sure you're communicating effectively 
In any job, employees should feel safe expressing concerns and asking questions about their responsibilities. Working in hospitality can be overwhelming for both back-of-house and front-of-house staff, leading to high rates of burnout. The restaurant turnover rate continues to rise, and 62% of restaurant operators say they don't have enough staff to meet customer demands, according to the National Restaurant Association. 
Although it can be unavoidable in the industry, it's important to listen to your employees about any issues they're experiencing with workload, customer demand, scheduling and other aspects of the job. Promote open communication and take the time to hear out concerns. That can include through surveys, anonymous questionnaires, or by conducting constructive performance reviews that go both ways. 
Open communication can go a long way in solving many of the problems you may be facing in your restaurant. By hearing out your employees, you can be proactive in addressing any identified problems. Doing this can only improve morale and incentivize staff to stay on the job longer.
How to keep improving and stay adaptable
As a business owner, you're probably constantly checking the vitals of your business. Here are a couple of tips on how to keep improving as consumers and market trends change.
17. Conduct regular performance evaluations
Keep a strict schedule for monitoring your key performance indicators (KPIs) every week and month. Maintain detailed records of these indicators so you can compare your financial performance month-to-month. KPIs include: 
Cash flow
Total sales
Cost of goods sold (COGs)
Profit margin
Employee turnover rate
All of this data, and any other operational metrics you calculate, will help you understand where your business is at any given point in terms of financial health. 
18. Encourage staff input
Your staff are on the floor and in the kitchen every single day. They have the greatest insight into what day-to-day operations truly look like. Encourage them to provide feedback and ideas for improvement. This encourages an environment of openness and collaboration that benefits everyone. 
19. Adapt to changing consumer tastes
Customer preferences change constantly. There's no way to meet the needs of every customer, but it can certainly help to tap into market trends and make sure you're in tune. Listening to customers is one way to stay competitive. Knowing how to adapt can benefit your business greatly, and usually you can find ways to stay true to your brand and offerings while ensuring you're listening to customers. 
20. Embrace innovation and new tech
We've talked a lot about technology throughout this post. Streamlining your operations is all about embracing the right technology in order to further your business. Legacy systems just don't cut it anymore, and you're doing your restaurant a disservice by sticking to old and outdated practices. In addition to saving you money, adopting better software and hardware will make your workflows much more efficient–and your employees will thank you for it.
Run your business better
We've covered a lot in this article. If you've made it this far, congrats! We hope you'll find even just one of these tips useful for streamlining your day-to-day restaurant operations. If you run a successful restaurant, you've probably learned how to implement at least some of these recommendations already–but for a growing business, there's always plenty to learn. 
Are you looking for a system that can make your workflows more efficient? Talk to an expert about Lightspeed Restaurant POS and Payments today.