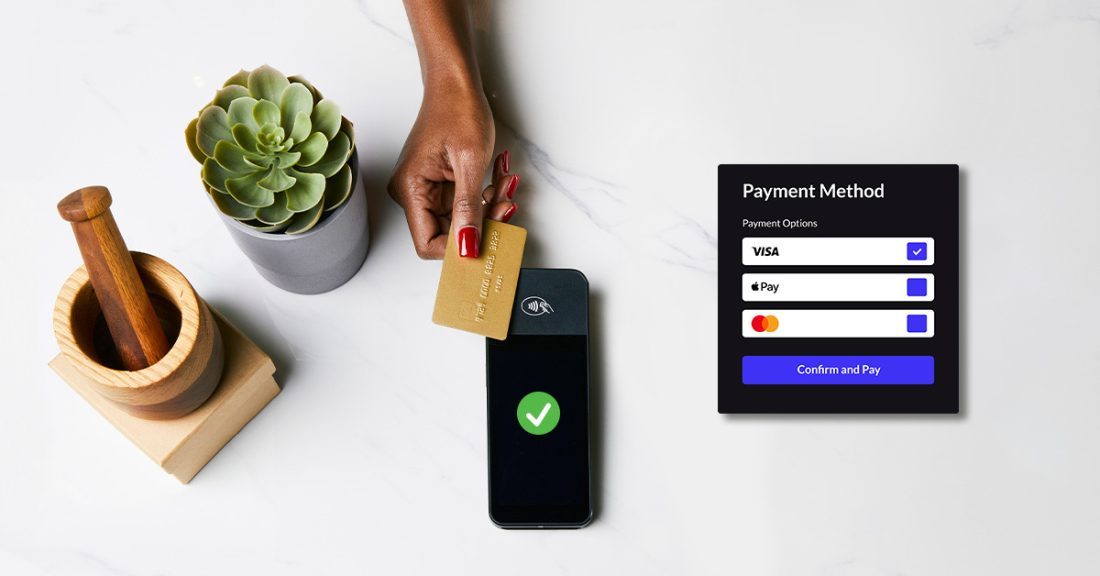 Given how widely used credit cards are, it's no surprise that most businesses accept credit card payments. But if you're opening a business or have recently decided to move away from cash to start accepting credit cards, you may not be sure where to start. This article will give you the information you need to start accepting credit card payments as soon as possible. 
Payment processing is integral to running a business. Using our expertise as a payment processor and point of sale (POS) provider, we've created a guide to accepting credit card payments. We'll also talk about key tools and systems you need before you can begin processing credit card payments. 
In this article, we'll discuss:
Looking for the right payment processor?
We put together a guide on how the payment process works, what types of fee structures you'll see and what to look for in a provider. Equipped with the right knowledge, you'll be ready to find the right payment processor for your business.
Why your business should accept credit card payments
As an entrepreneur, you're well aware of the fact that you'll always be competing with other businesses for the attention of consumers. That's why it's crucial to make yourself stand out among your peers and competitors, and accepting a wide range of payment methods—including credit cards—is one way to do that. 
Here are just a few reasons why your business should accept credit card payments:
1. You could gain customers and increase sales
Shoppers are more likely to leave your website if you don't accept commonly used payment methods, including credit cards. Plus, using a third-party service like PayPal to take online payments is less efficient and could ultimately make your store less appealing for potential shoppers. 
In store, if you only take cash and debit, for example, the risk of customers leaving your store without making a purchase will increase. Sure, they could pay with debit, but many people have at least one credit card with a loyalty program. These programs incentivize customers to pay with credit cards by offering rewards and other benefits, unlike most debit cards.
It's simple: giving your customers several payment options means that more people can shop at your store. Plus, a larger customer base could lead to an increase in sales.
Additionally, when you accept credit card payments, shoppers are more likely to make impulse purchases because they don't physically see the money leaving their account, as they would with cash. 
2. You'll save time on bookkeeping and see fewer errors
Accepting credit cards through integrated payment processing can make a world of difference when it comes to carrying out daily bookkeeping tasks, including invoices. Integrated payment processing eliminates the need for manual entry and automates tasks related to transaction records and sales. This will reduce errors and save you time. 
When you process credit card transactions, the amount of time you spend on manual billing and invoice collection is significantly reduced. You and your employees can instead focus on other tasks and areas of the business.  
Take Lightspeed customer Melissa Joy Manning, a New York-based jewelry store. When her business switched to Lightspeed Payments, they saved time on bookkeeping with payment reporting features. Lightspeed Payments gave them the crucial data they needed to simplify bookkeeping. 
"Whether it's sales tax liabilities, performance by door, performance by person, within different quarters, months, days, all of that is easy to find," says owner Melissa Joy Manning. 
3. Quicker processing time could lead to regular cash flow
Since credit cards are a global payment method, banks and payment processors have strong systems in place to process these payments. That means you won't have to wait long for payments to be processed and sent to your business account, even when accepting payments from international customers. 
Consistent cash flow is top of mind for merchants, and accepting credit card payments is one way to secure it. You'll receive payments faster with credit cards, simplifying the invoicing and accounting process.
What you need to process credit card payments 
There are a few things you need before you can start accepting credit card payments. If you run an established business, you may already have these systems in place.
1. POS system
A point of sale (POS) system is the hardware and software you use to run your business. A POS system allows you to ring up customers, accept payments, access reports, manage inventory, and view analytics. If you don't yet have a POS system, do your research to find the key features you should look for in a POS to most effectively manage your business.
2. Payment processor 
A payment processor allows you to process financial transactions made with credit cards, debit cards, digital wallets and more, both online and in-store. There are two types of payment processors: integrated and non-integrated. 
Integrated payment processors
An integrated payment processor is the more convenient and widely used option, but it all depends on the needs of your business. Integrated payment processors automate payments and communicate with your POS system to process transactions. They remove the need for manual entry, which reduces human error and allows you to process orders with more efficiency. 
Transactions are recorded automatically, saving both time and money. Plus, an integrated payment processor provides helpful data related to reporting, inventory, analytics, and other programs that your POS system includes. 
Lightspeed Payments goes one step further as an embedded payments solution, meaning payments are built into the software platform. 
An embedded solution like Lightspeed Payments streamlines transactions, speeding up the checkout process for both you and your customers. You can close out your day much faster than you would with an unintegrated payment processor.
Non-integrated payment processors
To put it simply, a non-integrated payment processor is the opposite of an integrated one: it does not communicate with your POS system. Transaction data isn't automatically recorded, and the checkout process becomes lengthier when your POS and payment processor aren't communicating. You'll have to manually add all this information, and valuable data isn't as easily accessible. It's generally not worth it to have an unintegrated payment processor.
3. Payment terminal
Payment terminals are the hardware that allow you to process payments made with credit, debit or digital wallets. 
Depending on the needs of your business, there are different types of payment hardware that you can use. That includes mobile terminals—like Lightspeed's Mobile Tap—that allow customers to make contactless payments through tap, Apple Pay, Google Pay, and more. Another option is Bluetooth-based terminals, which allow customers to make payments from anywhere in your store. 
It's important for your hardware to be compatible with your payment processor, otherwise you may be at risk of security issues. Consider purchasing your hardware directly from your payment provider. 
4. Merchant account
A merchant account is the bank account specifically established for your business to accept payments and manage funds. 
Business owners who use non-integrated payment processors will likely have to open and maintain their own merchant account, which can be difficult and time-consuming. But with Lightspeed Payments, you will become a merchant of record. That means we manage and maintain your merchant account for you, ensuring that funds reach your business bank account efficiently and safely. 
How these components work to help you process credit card payments
An embedded financial services provider is your best bet to cover all your bases to process credit card payments. Embedded financial services include a POS and payments solution all in one, meaning all your needs will be covered under one provider. This will streamline your workflows and make it easier for you to process transactions. 
An embedded provider comes with built-in payments. That means your POS system and payment processor work together seamlessly to process payments. That removes the need for manual entry, saving time and making checkout simple for customers and employees. Plus, your embedded provider will issue payment terminals that are compatible with their system, checking another item off your list.
A good payment provider will also take care of your merchant account so you don't have to worry about setting one up yourself. Taken together, an embedded financial services provider can take these components and turn them into one seamless solution for you to process payments with, online and in-store. 
How to accept credit card payments 
There are a couple of steps to take before you can start processing credit card payments. 
1. Select a POS and payment provider 
Find the best POS provider and payment processor for your business. Ideally, your POS provider should offer an integrated payments solution. This will simplify the setup process and allow you to start processing payments much faster, both online and in store. Do research and compare the processing rates, pros and cons of each provider you come across to determine what works. 
When you have an embedded payment solution, there's no need to set up a merchant account. 
An embedded solution can simplify your every day. UK-based business Philip Morris & Son, operating for over 150 years, transitioned to Lightspeed for their POS and payment processing after outgrowing their previous system. By switching, their day-to-day operations are more streamlined, and taking payments is much faster and less error-prone than it used to be. 
"The till operators are only pressing one button, feeding transactions straight through to the card machine. So that makes it quick. It has reduced errors completely," says Bruce Jones.
 Note: For merchants who aren't using a payment solution that's integrated with their POS system, get your merchant account up and running through a bank.
2. Set up your software and hardware
Payment providers will typically ship you hardware that's compatible with the software you purchased. 
The recommended payment hardware could range from terminals to mobile card readers. Don't get roped into purchasing hardware that isn't compatible with your payment processor–you'll be at risk of security and technical issues. 
Next, your provider should walk you through the setup process to ensure that your hardware and software are working as intended.
When you're all set up, you can move on to accepting payments both online and in your retail store. In both instances, the general process is the same:
At point of sale, the customer either taps, swipes, or inserts their credit card (card-present transactions) or enters their credit card information (card-not-present transactions).
The payment processor verifies via the card's issuing bank that there are available funds to process the transaction.
If the sale is authorized, the customer's account is debited and the funds are sent to the merchant account. 
How to accept payments in-store (card-present transactions)
Ring up customers using your POS system and payments hardware. At checkout, order details will appear at point of sale. Then the customer will be prompted to pay via a credit card terminal or card reader.
The customer will either tap, swipe, or insert their card and enter their PIN number to complete the transaction.
A receipt will be generated and printed for the customer. Once the sale is authorized and goes through, the money is sent from the customer's account through your payment provider to your merchant account. 
If you use an integrated payment processor, transaction details will be recorded in your POS. 
How to accept payments online (card-not-present transactions)
Accepting credit card payments online starts with a payment gateway. That's the software that allows the credit card information to be sent from your site to the payment processor. 
Another benefit to using an integrated payment processor: they'll do the work for you and work directly with credit card payment gateways to ensure that funds land safely in your account. That means you don't have to go out of your way to ensure your online store is compatible with your payment gateway and processor—your payment provider will handle that.
Once all your payment software is up and running, you can accept credit card payments easily. As with in-store transactions, the customer reaches the point of sale online once they've finalized their order. 
The customer will be prompted to enter their credit card details. After the sale is authorized, the money is sent from the customer's account through your payment provider to your merchant account.
Did you know? With an integrated payment processor like Lightspeed Payments, it's easy to accept credit card payments. The checkout process is efficient and convenient for the customer. Lightspeed Payments eliminates the need for third-party accounts that take customers off your site and make it difficult for you to track orders and transaction details.
How to accept credit card payments on a mobile device
If you're hosting a pop-up booth, for example, or displaying your items at a stand somewhere, mobile payments are a fast and convenient way to take payments. Mobile credit card readers are the most popular method for accepting credit card payments this way. 
A mobile credit card reader plugs into your phone using an auxiliary cord so customers can tap to pay. You connect to your payment processor online or through the app. Depending on the type, shoppers can swipe, tap or use their digital wallet to pay. Typically, these terminals connect through a Bluetooth connection. These card readers can connect to both iOS and Android systems. 
How to accept credit card payments without a card reader
If you want to accept payments as an individual or don't want to use a POS system to process credit card payments, it's possible to accept credit cards without a card reader.
For individuals
You can accept credit card payments as an individual through payment providers like PayPal or Venmo. You can sign up for these online, create an account, and receive credit card payments. This is limited to online or mobile payments. 
These service providers accept most major credit cards, including Visa, Mastercard and American Express.
For businesses
If you're just starting out your business but don't have the infrastructure in place to commit to payment hardware (including card terminals), you can use PayPal or Venmo to accept credit card payments. 
Some providers also offer apps that you can use to accept credit cards on your phone, either through manual input of the customer's card information or through scanning a QR code. 
You can also go the ecommerce route: set up a website, find a POS provider and integrated payment processor that is compatible with your site, and start accepting credit card payments that way. If you don't want to use an integrated payment processor, keep in mind that payment providers like PayPal or Venmo will take customers off your site and to a third-party application to process payments.
How to accept credit card payments over the phone
The difficulty with taking payments over the phone is security. All businesses must follow PCI DSS requirements and ensure they're up to standard when taking payments in store, online, over the phone and any other way. As long as your payment provider allows for payments to be taken over the phone and meets all PCI DSS standards in the process, it's quite simple.
With Lightspeed Payments, for example, you can process payments without a terminal by initiating a sale in the Lightspeed Retail POS and following the steps to create a transaction. When you're on the phone with the customer, you can follow the steps and enter their credit card information when prompted. From there, you can complete the sale.
The importance of researching pricing, security and support
When selecting a payment processor, take the time to do thorough research. Here are just a few things to look out for on your search for a payment processor: 
1. Look into pricing structures
Pricing models vary among payment processors, and some are not as transparent as others. Make sure you read the fine print and understand each provider's pricing structure, and how it will factor into your monthly expenses. If this information is vague or isn't easily accessible, the payment provider may not be right for you. 
Pricing models generally fall into one of the following categories: flat rate, interchange plus, and tiered pricing. You can read more about pricing models in this article. 
Don't hesitate to contact a payment service provider to learn more about their pricing models, and to ask for quotes so you can compare providers. 
2. Check for hidden fees 
Payment providers should list all processing fees up-front, but that's not always the case. Sometimes pricing terms aren't that clear, and you'll sign on with a provider who charges you fees you weren't aware of before you started. This can be upsetting and confusing. It's best to thoroughly educate yourself on a provider's exact pricing model and fee structure before you choose a service provider. 
There are many different fees, but it depends on the payment provider and the nature of your business. Here are some fees to be aware of: 
PCI non-compliance fee: You'll only run into this penalty if the PCI Security Standards Council determines that you're not up to standard.
Transaction fees: This is the (typically) flat fee your business pays for each transaction. 
Chargeback fee (per occurrence): When a customer disputes a charge, the acquiring bank requires the merchant to pay a fee. 
Monthly minimum fee: Some payment providers charge a monthly fee to process credit cards in addition to the transaction fee.
Terminal fee: With some processors, you'll be asked to pay a monthly fee for use of payment terminals. 
Basically, if the pricing rates are particularly low or look too good to be true, it doesn't hurt to investigate further to get a full picture of what you'll be paying for payment processing. You can reach out to potential payment providers to negotiate rates and gain a better understanding of associated fees.
Did you know? Lightspeed Payments offers transparent pricing—competitive rates without hidden fees. Per-transaction service fees are taken from your settlements, which means the funds sent to your account are all yours. We operate on a flat-rate structure that makes fees as simple and fair as possible—you pay one predictable processing and transaction fee every time, no matter the card type.
3. Ensure your payment provider is PCI compliant
To accept credit card payments, merchants must abide by a strict set of security measures. You have to follow PCI compliance standards to ensure your customers' data is protected and to avoid paying fees related to violating these measures. 
The PCI SSC (Payment Card Industry Security Standard Council) outlines security requirements that businesses must meet in order for them to accept credit cards as a payment method. These standards ensure that all businesses that accept and handle credit card information maintain security to protect merchants and consumers.
Make sure you're up to date with these standards. Look for a payment provider that handles PCI compliance on your behalf so you can have peace of mind.
Did you know? Lightspeed Payments is a level 1 PCI compliance provider, offering built-in, premium security features.
4. Look for strong customer support
Payment processing is crucial to the health of a business, meaning providers should offer their merchants strong customer service. If a problem arises, such as an outage or technical issue, you'll want all the help you can get from your payment provider to solve the issue as quickly as possible. 
That's why customer service is key. Check what kind of support a payment provider offers before you sign on and if it doesn't seem like enough for you—due to limited hours, few points of outreach, or other factors—continue your search.
For example, Lightspeed customer Simply For Life, a natural food market with over 40 locations, relies on Lightspeed's best-in-class customer support to further their business. 
"Our franchises can attest to Lightspeed's customer service being huge for us. Lightspeed wants to make sure that you succeed," says systems coordinator Angela Logan.
Did you know? With Lightspeed Payments, you get 24/7 unlimited customer support.
Start accepting credit card payments today
We hope this article is a helpful resource for you in your pursuit of accepting credit card payments. Now that you know the ins and outs of credit card processing, you can confidently accept credit card payments with a POS provider and payment processor that meet the needs of your business. 
If you need more help on finding the right payment processor or want to learn more about Lightspeed Payments, reach out to one of our experts.