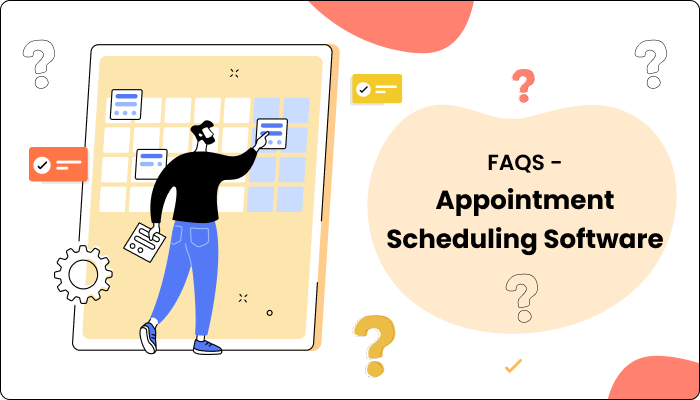 Whether you manage a legal firm, a medical practice, or a beauty parlor, appointments are a crucial part of managing a successful business. Maintaining a record of client schedules and making sure they are scheduled at the appropriate time can be a difficult chore. Appointment scheduling software is becoming increasingly popular among organizations because of this.
To assist you to understand how appointment scheduling tools may simplify your life and manage your business operations, we'll address the top 10 questions regarding it in this article. We've got you covered on everything from comprehending the advantages of employing this tool to determining the features you require. Let's look at how appointment scheduling software can make your life easier now.
1. What is an appointment scheduling tool?
A tool used to organize and automate the booking and scheduling of appointments, meetings, or reservations is an appointment scheduling tool. By letting clients quickly book appointments online, minimizing manual scheduling, and preventing conflicts and multiple reservations, it enables businesses and organizations to streamline their scheduling process, enhance customer experience, and increase productivity.
2. How does the appointment scheduling tool work?
Software for scheduling and managing appointments, events, or other interactions between a service provider and customers is known as appointment scheduling. Clients can often arrange appointments through the software, monitor available timeslots, and get reminders. The provider can control their schedules, examine appointment details, and interact with customers. To simplify the process, the tool frequently integrates with calendars, emails, and SMS. Additionally, it offers real-time updates and synchronization, which lowers the likelihood of double booking or other scheduling issues.
3. What features should an appointment scheduling software have?
Online appointment scheduling and booking should be possible for clients via the software's website or connected widgets.
Calendar management: The program must include a simple and easy-to-use calendar for assigning tasks and controlling availability.
Automated reminders: To decrease no-shows, the program should automatically send customers email and SMS reminders.
Payment processing: Customers should be able to pay for their appointments online thanks to the software.
Customer management: the software should store customer information and appointment history for easy reference.
Customizable appointment types: the software should allow businesses to define and offer different appointments and services.
Multi-location support: for businesses with multiple locations, the software should allow appointment scheduling across all locations.
Reporting and analytics: the software should provide reporting and analytics to help businesses understand appointment trends and make informed decisions.
Mobile compatibility: the software should be accessible on mobile devices, allowing businesses and customers to manage appointments.
Integration with other tools: the software should integrate with other devices such as email, calendars, and payment processors.
4. Can appointment scheduling software be used on any device?
It depends on the specific appointment scheduling software you are using. Some appointment scheduling software is cloud-based and can be accessed from any device with an internet connection, while others may require specific devices or operating systems. It's best to check the system requirements of the appointment scheduling software you're interested in to determine if it can be used on the device(s) you need.
5. How does the appointment scheduling tool integrate with my calendar?
Your calendar can be integrated with an appointment scheduling tool in a number of ways. Several prevalent techniques for integration include:
Synchronization of calendars: The program can automatically sync your appointments with your calendar, whether it be Google, Outlook, or Apple.
iCalendar Feed: You can add an iCalendar feed from some appointment scheduling applications to your calendar. You may use this to manage and view appointments right in your calendar.
Plugins or add-ons: Some appointment scheduling software offers plugins or add-ons that integrate with your calendar. These allow you to view and manage appointments directly in your calendar.
6. Can appointment scheduling software handle multiple locations and staff?
Yes, most appointment scheduling tool has the capability to handle multiple locations and staff. They usually have features such as team scheduling, resource management, and location tracking, which enable businesses with multiple locations and staff to schedule appointments, manage their resources, and track their locations efficiently.
7. Can appointment scheduling software be integrated with my website?
Yes, you can connect various appointment scheduling tools with your website. You can accomplish this integration by including a widget or a booking form on your website, which will enable your visitors to make appointments right there. In order to further tailor the interaction with your website, a specific calendar scheduler additionally provides API integrations. The appointment scheduling program you use will determine the precise integration process.
8. Does appointment scheduling software have reporting and analytics capabilities?
Yes, most appointment scheduling tool has reporting and analytics capabilities. These features allow you to track and analyze key metrics such as appointment schedules, staff performance, and customer engagement, among others. The specific reporting and analytics capabilities offered by appointment scheduling tool vary, but most offer basic reports such as appointment schedules, staff utilization, and appointment history. Some more advanced software also offers real-time dashboards, custom reports, and data exports, which can provide more in-depth insights into your appointment scheduling data.
9. Can appointment scheduling software handle appointment reminders and notifications?
Yes, most appointment scheduling tools can manage reminders and notifications for appointments via email, SMS, and in-app notifications, among other channels. To make sure that clients and patients remember their forthcoming appointments and arrive on time, these reminders and notifications can be automatically generated and sent to them.
10. Can appointment scheduling software handle appointment scheduling for multiple services and service providers?
The majority of appointment scheduling programs can manage to make appointments for various services and service providers. The software typically enables the setting up of various services, their assignment to particular service providers, and online appointment scheduling for these services by clients. Numerous locations can be managed, service provider schedules can be managed, and appointment availability can be specified in certain appointment scheduling tools.
Summary
Appointment scheduling can be a time-consuming and confusing process. However, with the help of reliable scheduling software, it can become a breeze. Schedule.cc from 500apps is one such software that can make your life easier by providing a seamless appointment scheduling experience. After answering the top 10 questions about appointment scheduling software, it's clear that Schedule.cc is one of the best options available in the market. It provides all the features you need to manage appointments effortlessly and efficiently. So, if you're looking for a way to simplify your appointment scheduling process, Schedule.cc from 500apps is definitely worth considering.