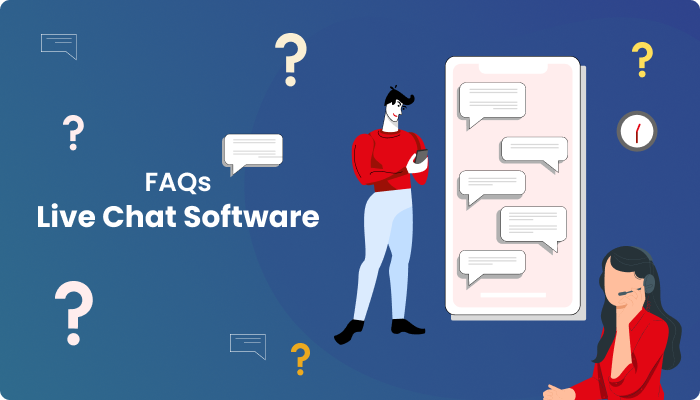 Customer success is key to the growth of any business, especially for those who deeply depend on website sales growth. The need for live chat tool in the current industry is driven by the growing demand for delivering efficient and convenient customer service. It has become inevitable for many businesses in the modern industry. It enables customers to quickly and easily get the information they need without having to wait for long periods of time or having to leave a message and wait for a representative to respond.
In today's fast-paced and competitive business world, customers expect quick and personalized responses to their questions & concerns. Live chat software does this with ease by communicating with customers in real time, providing quick and efficient customer support. This application has become important in the era of e-commerce, where customers may have questions about products or services before making a purchase.
1. What are Live Chat Tools?
It is a tool that allows real-time communication between businesses and customers to upscale their business. This type of software is typically used on websites, where customers can connect with customer service representatives in real-time. Live chat app allow customers to ask their queries, get answers, and even get support with application troubleshooting. Live chat apps are very crucial for those businesses that truly want to provide excellent customer service and boost customer satisfaction.
2. What are the Benefits of using Live Chat Tools?
Here are some of the advantages of using a website live chat app:
Increased Customer Satisfaction: These allow customers to get answers to their questions quickly and comfortably. This can result in increased customer satisfaction, loyalty, and a better customer experience overall which leads to more conversions.
Cost-Effective: Live chat tool is a cost-effective solution to providing customer service, as it requires fewer resources than other customer service channels.
Increased Efficiency: Live chat application is faster and more efficient than traditional customer service methods. Customers can get answers to their questions quickly and easily, leading to higher customer satisfaction levels.
Automation: Live chat solutions can automate certain tasks, such as providing canned responses to frequently asked questions. This can help to save time & resources for customer service teams.
3. Is Live Chat Tools Ideal for Sales and Customer Service?
Live chat is a great tool for businesses to generate sales. It gives customers access to immediate responses to their questions and gives sales staff the chance to connect quickly with potential customers.
Live chat tool permits businesses to allow more close relationships with their clients which may increase client loyalty & increase revenue.
4. Can the Live Chat Tool be used for Lead Generation and Market Research?
This can be used for generating quality leads, and market analysis. A live chat platform is a great way to interact with customers and get feedback on products & services in real-time. Live chat software also allows businesses to collect information from their customers in order to better understand what they need or looking for from their products or services.
Live chats are also excellent for market research because they allow businesses to gather information about their customers' needs and opinions on different topics. This helps them tailor their services so that they best meet the needs of each individual customer.
5. Can a Live Chat Tool Track Customer Behaviour and Integrate it with Other Tools?
Live chat tools can be used to track customer behaviour and integrate it with other apps for better tracking. A live chat app's goal is to show the precise wants of clients and the manner in which they desire assistance. This can be achieved by posing queries, seeing how they interact with the website, and monitoring their social media profiles. The data acquired from this method may be utilized to build the website's user interface or content readability based on what's working for them. By ensuring sure you are giving the appropriate information at the appropriate moment, you may greatly improve the experience your customers have with you.
6. How do Live Chat Tools Handle Multiple Chats and After-Hours Support?
The live chat application is designed to handle multiple chats and midnight support. The software will give you access to live chat 24/7, so you can respond to questions as they come up. The software also has features that allow you to see which users are currently logged in, so you can organize your responses to those users first. You can also allot tasks and follow up on them later if necessary.
7. How do the Live Chat Tool Improve Customer Satisfaction and Response Times?
The live chat tool improves response times by providing customers with an immediate response to their queries. With live chat, customers can ask questions & receive answers in real-time without having to wait or hold for an email response. This can drastically reduce customer wait times and provide better customer service.
Moreover, live chat applications can be used to provide customers with proactive support, such as personalized suggestions or product tips. This can help to increase customer satisfaction by providing customers with the information they need in a timely manner.
8. How Does Live Chat Tool Improve Team Productivity, Website Conversion Rates, and Customer Retention?
Team Productivity: Live chat apps can help teams stay connected and collaborate more effectively. By having an easier way to communicate with each other, teams can save time and resources as they work together to complete tasks.
Website Conversion Rates: Live chat tool helps to increase website conversion rates by providing customers with quick and helpful customer service. The potential user who is visiting the website can get their questions answered quickly and easily, making them more likely to convert into paying customers.
Customer Retention: Live chat tool will help increase customer retention by providing customers with more personalized and helpful customer service. When customers feel like they're being heard & their questions are being addressed quickly, they're more likely to remain loyal to the company.
9. Can the Live Chat Tool be used on Mobile Devices for Remote Teams, Account Management, and Team Collaboration?
A live chat tool is an important tool for remote teams and account management. With its ability to promote communication among teams, live chat applications can be used to quickly send messages, share files & relevant information, create group chat rooms & more. The great news is that the live chat system can also be used on mobile phones, allowing team members to stay connected and collaborate no matter where they are.
With live chat apps on mobile devices, remote teams can use important information, ask teammates questions and find answers quickly. Account management teams can use live chat apps to observe customer relations and provide support, while team collaboration is simplified with the ability to create and share documents on the go. Live chat software can also be used for customer support & customer engagement.
10. Can the Live Chat Tool be used to Gathering Customer Feedback?
A live chat tool is an excellent approach to obtaining customer feedback. Customers are able to immediately express their thoughts and experiences with a company's goods and services, giving valuable information that might enhance the customer experience. Additionally, live chat offers a useful method for clients to contact businesses for customer care, making it simpler for businesses to reply to inquiries from customers and offer prompt assistance.
Applications for live chat also contain features like sentiment analysis, which can help companies assess consumer sentiment in real-time and learn more about their clientele. Live chat is the ideal technique for gathering client feedback due to all of these advantages.
Summing Up
Live chat tools are an online customer service and marketing solution that enables businesses to communicate with customers in real-time. It typically includes features like automated greetings, canned responses, and data collection.
NinjaChat is a unique live chat tool that stands out from the competition. Unlike other live chat solutions, NinjaChat is designed to be a full-fledged customer service platform that comes with 49 other marketing apps for 500apps for only $14.99 per user.